Nature's Testament: A Fall Scripture Exploration - Scripture Scavenger Hunt
Regular price

$9.00

Sale price

$6.00
Embark on a Spiritual Adventure!

The Nature's Testament scripture scavenger hunt offers participants a mesmerizing journey, blending the beauty of fall's changing landscapes with the richness of biblical wisdom.
By journeying through this quest, individuals will experience a harmonious transformation, deepening their connection to both nature and scripture in profound ways.

WHAT YOU'LL LEARN...
Discover the Biblical Significance of Nature: They'll unravel how scripture celebrates nature's splendor, drawing parallels between the changing seasons and life's spiritual seasons.

Foster Mindfulness and Reflection: By immersing in the colors, sounds, and scents of fall, participants will learn to appreciate the present moment, finding tranquility and inspiration in nature's transient beauty.

Deepen their Spiritual Connection through Nature: Participants will recognize the magnificence of God's creation, understanding how the intricacies of the fall season can be symbolic of life's ebb and flow, and God's unwavering presence throughout.
WHAT YOU'LL RECEIVE...
Clue Cards: Beautifully designed cards, each one infused with engaging prompts that lead participants from one biblical story to the next, sparking curiosity and excitement.

Detailed Instructions: A comprehensive guide that ensures a seamless experience, providing clear steps for setting up and navigating the scavenger hunt, whether for small groups or large gatherings.

Special Note for the Treasure: A heartfelt message, thoughtfully crafted to resonate with the overarching theme, adding a personal and memorable touch to the discovery at the hunt's conclusion.

Theme-Based Scripture Bookmarks: Elegant bookmarks adorned with selected verses and designs that tie into the theme, perfect as cherished keepsakes or to gift to fellow participants.


This is a digital product. Nothing physical will ship.
Share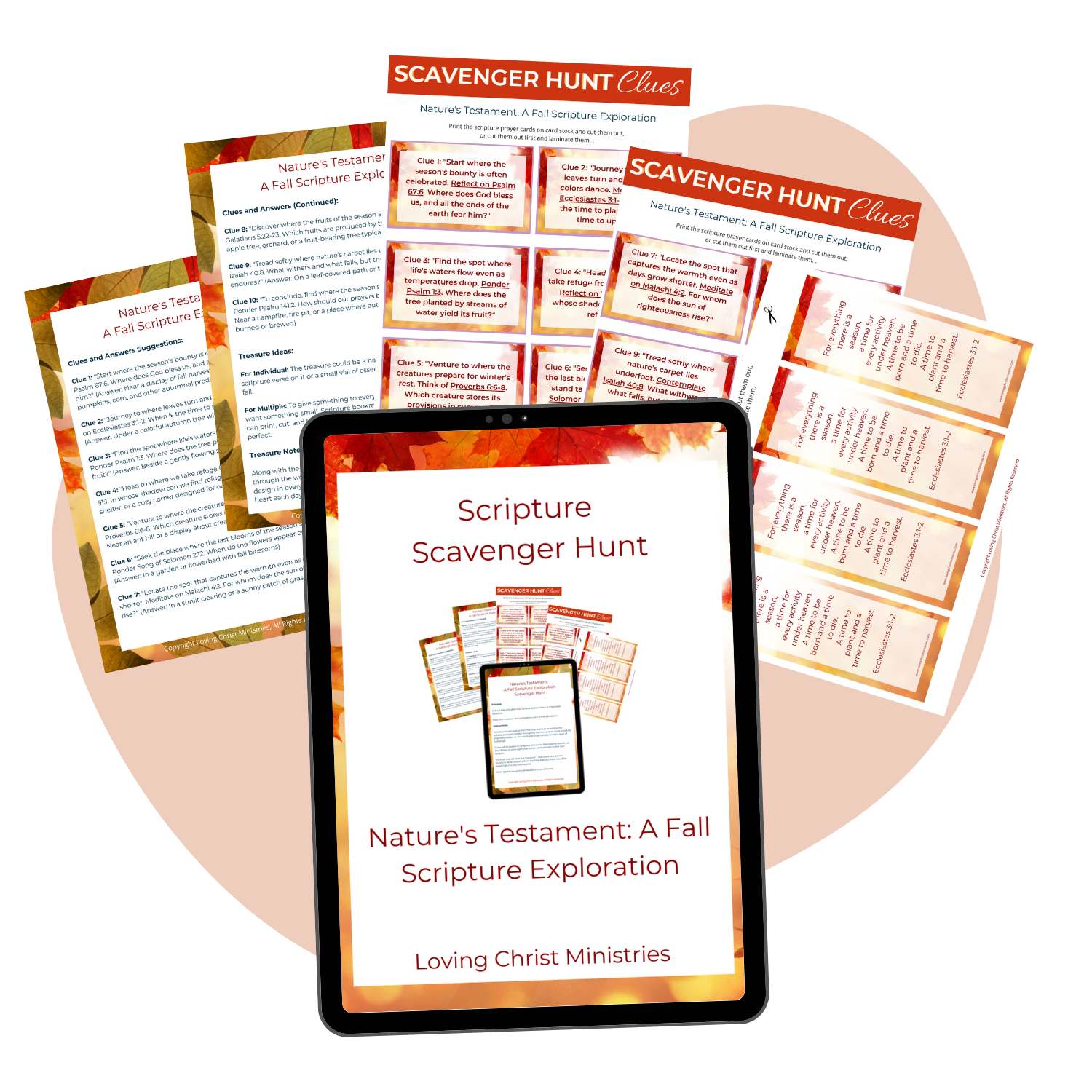 Frequently Asked Questions
✞ Will I receive a physical copy of my resources in the mail?

No, you will not receive a physical copy of your resources in the mail. These are digital products designed to be printed at home or at a print shop.
✞ How will my product be delivered?

You will receive a PDF Document of each resource you purchase to download (print only the pages you need)
✞ How many copies can I print?

You are able to print as many times as you would like for personal, family, or single church use. 

If you would like to use this file for multiple churches, please email us at julie@lovingchristministries.com for information on a bundle purchase price.

This digital file cannot be given to anyone else. In order to own a digital file, it must be purchased.
✞ What's your refund policy?

Because this is a digital product that you will receive immediately upon purchase and can save to your computer, we do not accept returns and refunds. There will be no physical product to be shipped. 

Please watch the 'Look Inside' video when available and/or look at all images before purchasing. You'll get access to your product instantly after your purchase. If you have any questions regarding how to download and use the product, don't hesitate to message us.
Let customers speak for us