One Year Done for You: Christian Women's Retreat Themes (150+ Pages, Six Complete Themes)
Regular price

$174.00

Sale price

$77.00
EVERYTHING YOU NEED TO PLAN RETREATS FOR A FULL YEAR!
TAKE THE GUESSING OUT OF YOUR PLANNING
SAVE TIME WITH MATERIALS CREATED FOR YOU
SAVE MONEY BY HAVING EVERYTHING DONE FOR YOU
WHAT THIS BOOK HAS TO OFFER
One Year Done for You contains 150+ pages of everything you could want for a year's worth of retreat themes. Whether you have a retreat once per quarter or once every other month, you'll find plenty of material here. 
Each of these themes can be purchased individually for $29 each. Buying them all together in the One Year Done for You ebook will save you lots!
NOTE: This is a digital product. You will not receive anything by mail.
Six (6) Complete Themes Included:
GOD SPEAKS STILL

What do you think of when you read 'God Speaks Still'? Our lives get so busy with worldly things, it's easy to veer away from listening to what God is saying to us.

CAST YOUR BURDENS

God tells us over and over how much He cares about us. We're called to trust Him to carry our burdens and fill us with a peace that goes beyond understanding.  

FALL IN LOVE WITH JESUS

In the fall, as the leaves change to yellows, oranges, reds, and browns, we are reminded how Christ's love for us changes us as well into beautiful, colorful creations in Him.  

HEALER OF BROKEN HEARTS

We all experience heartache in our lives whether from a broken relationship, the death of a loved one, or the loss of something dear. When we learn to turn to Jesus, our hearts will be healed. 

IT'S ABOUT TIME

We never seem to have enough time to do everything we want. There just aren't enough hours in the day, right? It IS about time to learn how to focus on making wise choices with the time we do have.

 

WHERE FRIENDS GATHER

Friends enrich our lives in so many ways. We can all think of those special people in our lives we consider our friends. Through love and laughter, our friendships grow and allow us to have people to turn to in every situation, even the difficult ones. 
Every Theme Includes:
Speaker's Outline with the best format, thoughts, and related scriptures

Guiding scriptures

Original theme-specific devotionals

Prayer Cards 

Table Talk Cards

Small-Group Discussion Questions

Individual Reflection Questions

Scripture Wall Art

Song suggestions

Craft and activity suggestions

Door prize ideas


All future updates! 
To read more about each included theme, check out their pages:
Share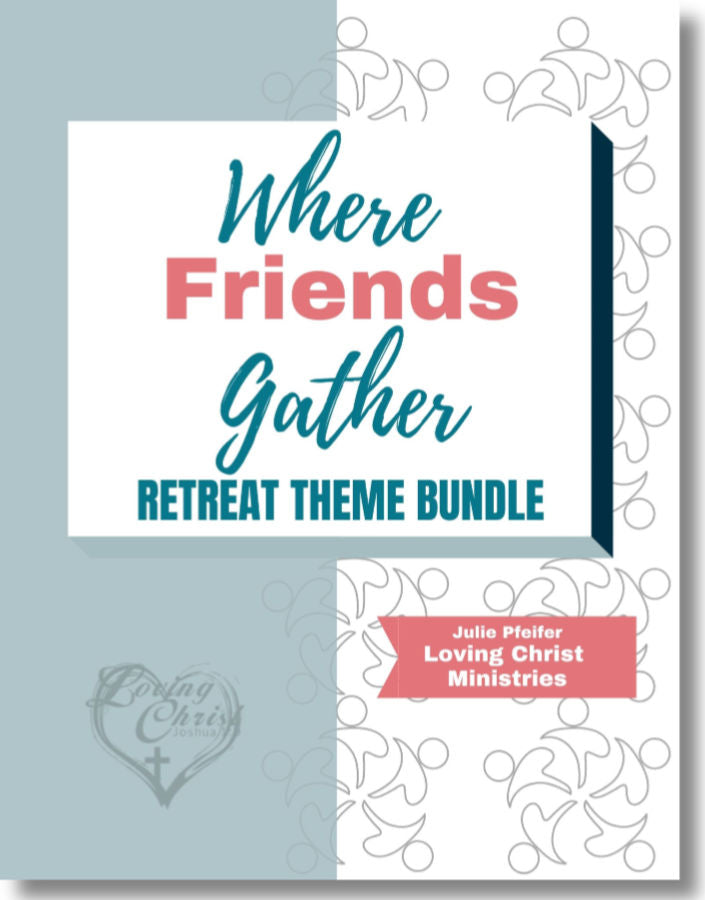 Frequently Asked Questions
✞ Will I receive a physical copy of my resources in the mail?

No, you will not receive a physical copy of your resources in the mail. These are digital products designed to be printed at home or at a print shop.
✞ How will my product be delivered?

You will receive a PDF Document of each resource you purchase to download (print only the pages you need)
✞ How many copies can I print?

You are able to print as many times as you would like for personal, family, or single church use. 

If you would like to use this file for multiple churches, please email us at julie@lovingchristministries.com for information on a bundle purchase price.

This digital file cannot be given to anyone else. In order to own a digital file, it must be purchased.
✞ What's your refund policy?

Because this is a digital product that you will receive immediately upon purchase and can save to your computer, we do not accept returns and refunds. There will be no physical product to be shipped. 

Please watch the 'Look Inside' video when available and/or look at all images before purchasing. You'll get access to your product instantly after your purchase. If you have any questions regarding how to download and use the product, don't hesitate to message us.
Fits appropriately.
Would be great lessons for a Bible Study or Women's Meeting too
Just what I needed
I work with the women's ministry in our church planning yearly retreats. It is often difficult to decide on a theme but with this purchase I have 5 different ideas to present. They are all great 'jumping-off' points to plan the retreat. And I particularly enjoy the skits in each theme...my ladies enjoy participating in and watching skits.
Thank you for making this resource available and affordable!
Everything you need
I am so pleased with this purchase. My church has not had a women's program in a long time. Throw our first retreat in November. (Fall in Love with Jesus that I purchased earlier) It was such a hit everyone wants more so why not get all of them at once. Outline is great and easy to follow. Can not wait until I can but together the next retreat together.
Review
Due to the pandemic we have been unable to meet and use any of the themes so it would be difficult to rate it at this point in time. From I I could see reviewing it myself it looked very good.
Looks great but haven't used it die to Covid19 restrictions. There's another year coming....
Let customers speak for us